Building
a future-proof standard
Assessing certification against a dynamic standard
MiQ is developing a practical standard for demonstrating effective methane emissions management, today. But, it won't remain static. The MiQ Standard will continue to be updated so that it remains ambitious and compatible with the future of our energy system, methane monitoring and quantification technologies, and best practices.
The MiQ Standard builds on and will continue to leverage, the critical work of many other organisations, including:
The certificate grading system in the MiQ Standard aligns with the OGMP 2.0 reporting requirements (at level 3 and above) and sets a pathway for facilities to transition from generic emission factor-based methane intensity estimates to those based on measurements, as enabled by rapidly evolving monitoring technology.
This transition will further reduce the uncertainty associated with reported methane emissions. Methane intensity is one of three key elements of the MiQ Standard, in conjunction with the deployment of monitoring technology and company practices, all of which are critical to credibly differentiate producers.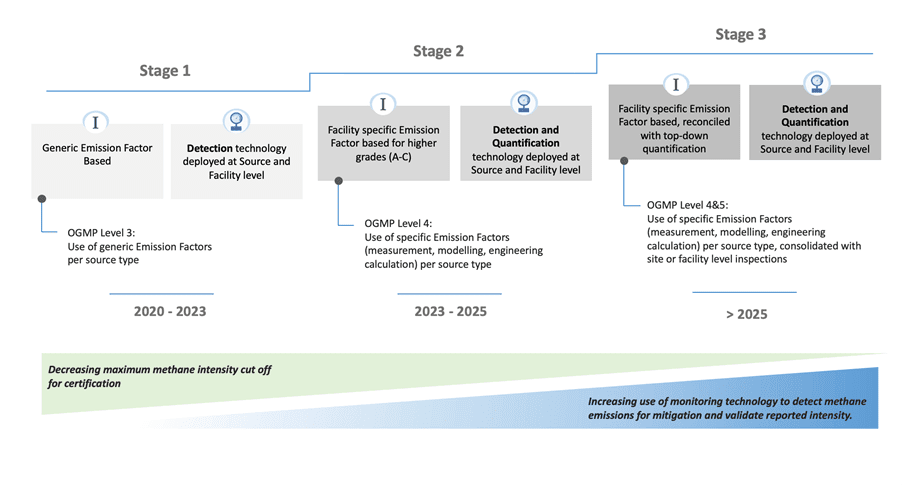 Roadmap of the MiQ Standard and Certification programme
In addition, we are working to expand the MiQ Standard to include more segments of the oil and gas supply chain, including LNG, to ensure methane emissions are also reduced, managed, and accounted for across midstream and downstream stages.
An actionable standard for today