A third way
An independent certification system provides a level playing field for the entire industry, can be implemented and acted on quicker than regulation, and provides the transparency and accountability that is currently missing from voluntary schemes, globally.
Abating oil and gas methane emissions:
three complementary approaches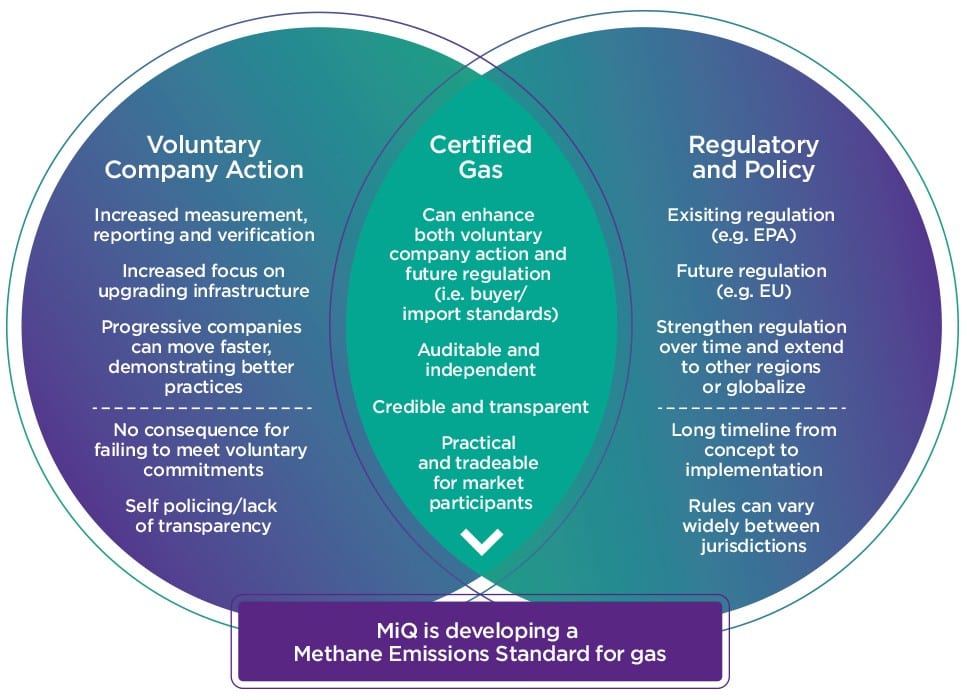 National and regional regulation can and will play a crucial part in reducing methane emissions in the energy sector in the longer term. Regulators in Europe and US have highlighted the need for the energy sector to do more, but they have stopped short of implementing the concrete measures that are needed to truly make a difference.
The energy sector itself has embarked on a number of voluntary initiatives that have signalled a commitment to act. These are positive steps in the right direction, but without accountability and transparency these measures will continue to fall short of delivering the step change needed for a significant reduction in emissions.
A globally-applicable certification system enables all oil and gas producers to be assessed according to the same universal standard. This means there is an international level playing field, in which operators are awarded a grade based on the efficacy of their methane abatement mechanisms according to the same rules.
An independent standard will also enable climate-conscious producers, regulators, and end users to credibly demonstrate methane abatement to consumers and investors.
An actionable standard for today