Bringing rigour to methane emissions management
The MiQ Standard is a practical measure for assessing methane emissions management, but it won't remain static. MiQ is currently piloting the Standard, which we've developed with input from a wide variety of stakeholders.
The MiQ Standard is designed to incentivise continuous improvement in methane emissions monitoring and abatement. MiQ is currently piloting the Standard, after having received valuable feedback from several stakeholders. The Standard will provide a rigorous and robust method to certify natural gas production according to its methane emissions performance.
To carry MiQ Certification, an upstream onshore or offshore Facility must demonstrate performance across the following three criteria:
Methane intensity below a threshold (% = methane emitted/natural gas produced)
Company practices that promote and ensure a culture of emissions management
Comprehensive monitoring technology deployment that enables detection of unintended emissions
Performance on the above elements is verified by independent and accredited auditing organisations (Certification Bodies). Final determination of facility performance and resulting certificate grades is the responsibility of the Certificate Issuing Body.
Companies are assessed against a holistic and inclusive grading system. This system enables and encourages participation by many types of natural gas producers, ranging from those just beginning to inventory and mitigate their methane emissions, to those truly pushing the envelope with the latest production equipment and methane monitoring technologies.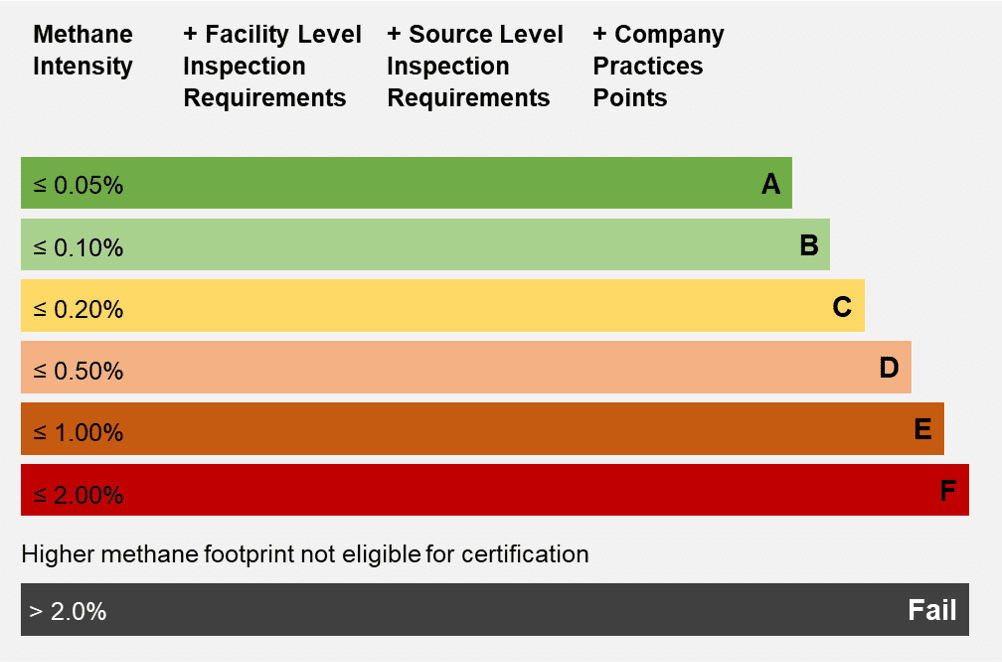 The Standard requirements are inclusive, so a facility must meet or exceed the minimum requirements in all three categories to receive a given grade.
In general terms, methane intensity is a ratio of methane emissions relative to natural gas production, which is a baseline indicator of methane emissions performance. The methane intensity is indicative of whether a facility's design will achieve minimal inherent methane emissions and eliminates, to the greatest degree possible, the potential for fugitive emissions.
The MiQ Standard leverages the Natural Gas Sustainability Initiative (NGSI) protocol methodology for calculating the methane intensity of natural gas (including associated gas) production. By this metric, facilities with lower methane intensities are eligible for higher grades (if also paired with both comparable company practices and monitoring technology deployment). The Standard also enables producers to calculate source-level methane emissions using measurement or country and source-specific emission factors, at the discretion of the auditor for applicability. Setting a transparent and consistent basis for comparison is an important requirement for a certification system.
Producers must demonstrate effective methane emissions management through company practices which exhibit an overarching cultural drive to improve methane emissions performance. Company practices include policies and procedures a producer employs to ensure it is managing and minimising methane emissions. By establishing and implementing company practices and operational key performance indicators to guide personnel, producers can ensure methane emissions are managed appropriately.
The MiQ Standard outlines a list of mandatory company practices that an operator must have in place in order to be eligible for MiQ Certification. Additionally, it lists several improved policies and procedures which are optional, but necessary in order to qualify for higher MiQ Certification grades.
A producer should be able to not only produce documentation of their company practices, but should also be able to demonstrate understanding and effective implementation of these practices.
The company practices performance criteria have been adapted from voluntary global industry and regulated best practices, as identified in legislation, voluntary programmes, and other technical guidance documents. Where possible, the MiQ Standard aims to align with other existing industry and national initiatives to reduce redundancy and streamline reporting. These organisations and initiatives include but are not limited to:
Monitoring Technology Deployment
The MiQ Standard requires operators to deploy monitoring technology to detect unintended methane emissions for timely repair or replacement. This is a vital element, as systematic regular surveys are critical to ensure that methane emissions are effectively managed in practice.
The MiQ Standard outlines and requires two levels of monitoring technology deployment – source-level and facility-level surveys. These two levels of deployment intend to capture and provide assurance that smaller component level leaks as well as large (super-emitter) emissions events are detected and remedied. Deployment at both of these scales is scored based on the frequency and spatial coverage of surveys.
This version of the Standard requires methane monitoring technology-enabled detection only, whereas future iterations will require quantification of methane emissions through measurement. However, quantification is highly encouraged today in order to improve understanding of source-level methane emissions and establish the cost effectiveness of abatement options.
As technologies and associated deployment and quantification methods improve over time, the Standard will be updated to reflect recommended best practices.