MiQ provides certified methane emissions across the natural gas supply chain to support life cycle assessments for end users
MiQ certification covers every segment of the natural gas supply chain applying our fit-for-purpose Standards for Production, Gathering & Boosting, Processing, Transmission & Storage, Liquefaction, LNG Shipping, and Regasification.

Certified asset operators from each segment are issued certificates on the MiQ Registry, subject to third-party audit, for emissions related to their operations.
A certified supply chain, or even partial supply chain connecting two or more segments, may be constructed by any account holder on the MiQ registry by assembling certificates from the relevant certified facilities within a specific supply chain pathway.

Gas buyers require credible emissions data well-to-gate to support their life cycle assessment needs. Certified gas certificates provide the high-quality emissions attributes and tracking.
End users such as local distribution companies, chemical producers, power companies, green fuel producers, and LNG buyers, each require complete information on upstream emissions to understand their own carbon footprint.
The natural gas market is not linear and physical gas ownership does not necessarily transfer along straight paths. Physical gas may move to multiple locations and between multiple hands (traders, marketers, LNG shippers) before arriving at its final destination.
The MiQ registry applies a book-and-claim structure to support the nature of the existing natural gas market within a certificate region, such as North America (see further on the use of regions). Emission attributes are digitally recorded on each certificate and can be transferred and compiled between account holders to either mirror the physical gas transactions, or assemble the necessary certificates to support asset-level data for a life cycle assessment. End users are compelled to apply logical connections within a grid or "Region" to support a certified supply chain.

MiQ certificates and the emission claims that they represent, are retired on the MiQ Registry upon usage by (or on behalf of) end users. Statements setting out the details of the certificates retired can then be used as evidence in a life cycle assessment or greenhouse gas reporting.
MiQ has defined the concept of certificate regions. The end-usage of gas certificates is limited initially to the region of certification. These regions are defined by MiQ to reflect very large gas trading or production interconnected areas, such as e.g. North America, Europe, Japan, Middle East.
For example, a North American buyer based in Florida, NY or California can retire a North American certificate produced in the Marcellus, Haynesville or Bakken.
Internationally, in order for certificates or a certified supply chain to be retired in another region, they must include an international transport segment – such as LNG or pipeline – to account for transport and emissions into the new region.

Life Cycle Assessments
The MiQ certification program for both methane emissions performance and carbon intensity are designed to support the most robust life cycle assessments for greenhouse gases.
The MiQ standard, registry and supply chain protocol apply the key ingredients necessary to build a credible life cycle assessment, which include:
Asset level granularity – the only way to enable calculation of supply chain emissions
Transparent, published Metrics
Quantitatively determined emission estimates
12-month accounting period for emissions
Use of Energy-attributed emissions intensity for the natural gas supply chain
Logical determination of supply chain geography following the "real" natural gas market
Transparency of any gaps or segments not certified. End users may elect to use "smart-inputs" to complete their LCA
Use of a registry to track and account for emissions, such as through a book & claim system
Retirement of emission attributes upon usage to avoid double counting
As stated above, one of the most critical ingredients for an LCA are comprehensive, quantitative emission claims and transparent metrics.
The MiQ Standard begins with emission claims supported by measurement data, and do not rely on emission factors. Instead, the MiQ Standard applies advanced facility-scale methane surveys, elimination of abnormal process conditions and unwanted emission sources, combined with robust QA/QC'd emission inventory data.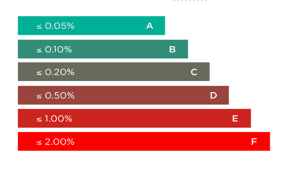 Uncertainty in methane emission measurements and calculations are a fact of life at this point in time, however should not get in the way of developing a robust life cycle assessment, differentiation, and efforts towards emission reduction. MiQ certificates manage uncertainty and emission confidence determinations through the usage of the MiQ Grade Scale.
The MiQ Grade Scale provides assurance that an operator's asset-level emissions are no greater than the top of the grade band, through 3 layers of defense. This supports more than sufficient granularity to support a full supply chain life cycle assessment for natural gas.
| Grade | Methane Intensity (g/MMBtu) | #Certificates | Scope | Segment |
| --- | --- | --- | --- | --- |
| A | 8.8 | 400 million | Scope 1 | Onshore Production |
| C | 35.1 | 400 million | Scope 1 | Gathering & Boosting |
| A | 8.8 | 400 million | Scope 1 | Gas Processing |
| B | 17.5 | 400 million | Scope 1 | Transmission & Storage |
| | | | Scope 1 | LNG Liquefaction/Shipping/Regas |
| | 70.2 | 400 million | | Onshore Industrial H2 Producer |
*Assumptions include 0.0192 metric ton/mscf pure methane; 95% mol CH4 content; 1.040 MMBtu/mscf gas;
Natural gas end users or LNG cargos may now use the combined certified attributes toward their final life cycle assessment for each molecule of green energy produced or LNG delivered.