Why certification?
A third way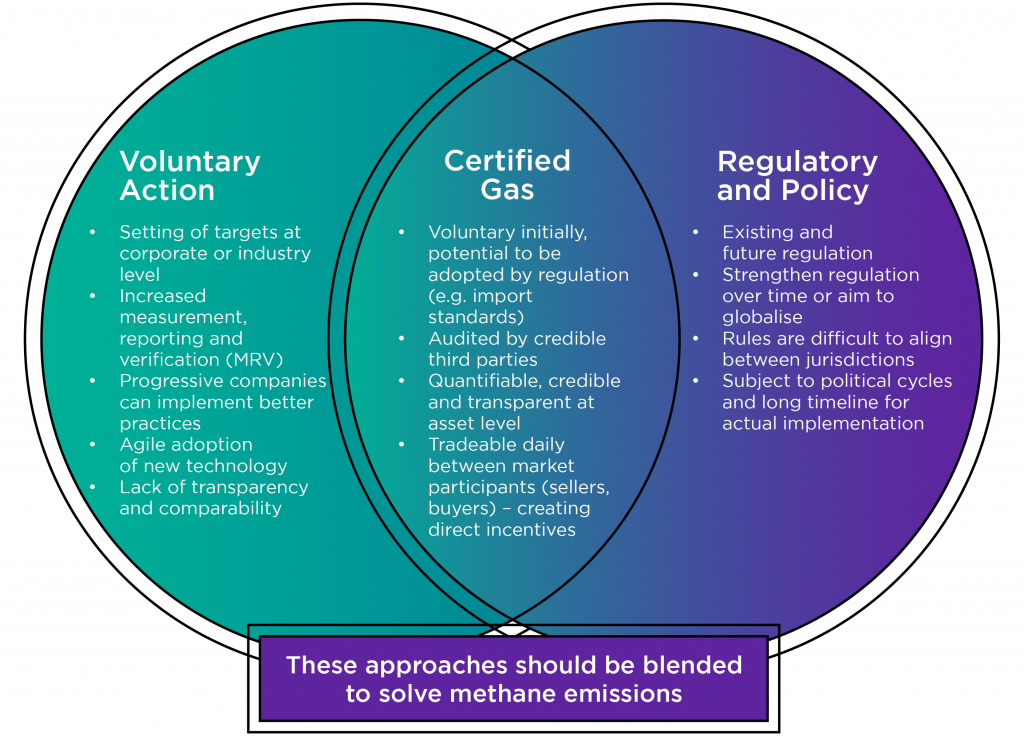 MiQ certification is the "third way" between regulation and voluntary company action – differentiating producers based on their methane emissions performance and incentivising businesses to improve because it simply makes good climate – and business – sense.
Gas buyers rarely have any credible assessment of the methane emissions performance of a batch of gas they are buying, and regulators have no credible way to assess and compare the methane performance of any batch of natural gas that imported into their jurisdiction.
Working together with the energy and environment sector, MiQ has developed a universally applicable system to credibly certify and differentiate natural gas based on its methane emissions performance, at a granular level.
Our approach provides buyers with the transparency they have long sought to enable them to choose natural gas with lower methane emissions performance, therefore incentivising producers to improve their offering.
But surely regulation is the answer?
We welcome the increasing action from Governments and regulators across the globe.
But so far, measures with the ability to make a difference in the coming years have been few and far between. Non-committal pledges, new institutes and yearly reports are providing some progress, but we need action today.
This is why at MiQ we decided to design but also implement the first certified natural gas global framework – a market based standard. Crucially, it has been specifically designed with longevity in mind, and will evolve with science, methane tech and be compatible with other credible frameworks as they evolve and emerge.
---
Why MiQ?
A partnership with MiQ demonstrates a credible, independent evaluation of methane emissions performance and a commitment to transparency and improvement.
Our standard is:
✅ Independent
✅ Third-party audited
✅ Technology neutral
✅ Open source
✅ Free from conflicts of interest
Our process is thorough, robust and third party verified – independently audited by established and trusted auditors with in-depth expertise.
In addition, it is deconflicted – delivered not for profit to avoid adverse outcomes.
It is also designed for the future: to collaborate not compete with regulators to ensure maximum global effectiveness.
Finally, our process is end to end. it follows the product along the supply chain from the production asset to entry to the importing zone.
The system we have designed has the power to improve methane emissions performance standards, creating measurable action on climate change.
---
For Operators

MiQ Certification enables operators to:
Credibly demonstrate to stakeholders your commitment to reducing methane emissions
Sell certified gas to your buyers, with potential for premium pricing versus higher methane emissions gas
Differentiate your gas production via MiQ's graded scale
Guarantee assessment validity as a result of MiQ's non-conflicted system and third-party audit process
Access the MiQ Digital Registry which acts a single source of truth, prevents double-counting, and enables certificates to be traded bundled and unbundled
Transport your certified gas to new regions and markets, thanks to MiQ's unique certified Life-Cycle Analysis which follows gas along the supply chain
---

For Third-Party Auditors

Third-party auditors can become MiQ Certification bodies:
Auditors need technical expertise in methane emissions management, calculation and monitoring in the oil and gas sector
Accredited auditors carry out independent checks at the facilities of company's seeking MiQ Certification, and play the critical role of awarding grades based on the MiQ Standard
As the number of companies seeking certification expands, there will be a rising demand for auditors with proven experience
If you would like to become an auditor, please contact us.
---
For Regulators

MiQ was designed to be adopted into regulation:
MiQ Certification provides a credible, enforceable certification standard for methane performance that can help meet and substantiate regional and national climate and emissions targets
We have started by deploying a market-based approach, and are already certifying a significant proportion of global gas production
Our goal is to reduce methane emissions from the oil and gas sector and support the fight against climate change, so we would be very happy for regulators around the world to adopt our global Standard and Certification system
An added benefit of MiQ's position as a market-based solution that can cross national boundaries, is that it can ensure that imported gas is also differentiated based on its methane emissions performance.
---
For Buyers

MiQ Certification gives buyers the information they need:
In an undifferentiated gas market, buyers have no way of telling the difference between gas which has emitted high levels of methane or lower levels
MiQ graded certifications means that buyers can choose to purchase gas which has lower methane emissions associated with it, and therefore lower climate impact
This gives gas buyers the opportunity to demonstrate their commitment to protecting the planet and providing the highest quality product to their customers
---
For Service Providers

Your company provides state-of-the-art technology solutions to monitor methane emissions and to abate them in an efficient way, generates deep insights with data and models, or offers consulting to improve processes and emission management.
We believe that the rapid technological development is crucial to detect, measure and abate emissions more efficiently.
To take this evolution into account, the MiQ Standard is technology agnostic.
For Operators to achieve their monitoring objectives and reduction targets, there is no single best solution, but rather a composition of different approaches that need smart orchestration.
Learn more about the MiQ Standard, our requirements and whether your solutions or service is compatible with MiQ Certification already.
---
For Investors

Methane emissions are increasingly relevant to investors' decisions:
MiQ Certification provides transparency on the methane emissions performance of investments to assist in ESG and climate risk evaluation and reporting
Unlike other standards, which are assessed on the national or company level, the MiQ Standard is assessed at a facility or asset level, creating greater granularity and a more comparable performance measure
MiQ Certification can be used for M&A transactions or divestments
---