Building an independent and third-party audited system
MiQ has created a balanced ecosystem of stakeholders to guarantee transparency and accountability in Certification.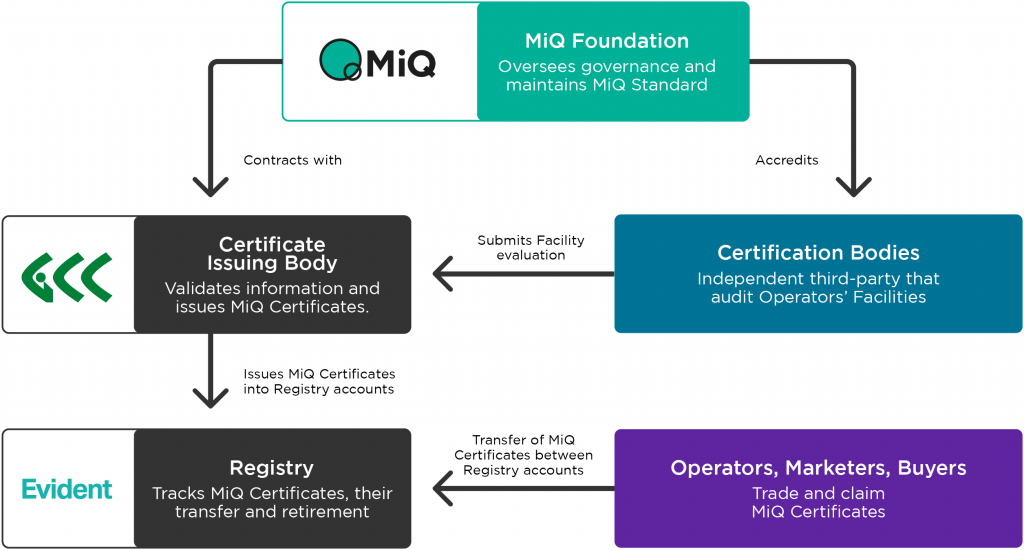 ---
Standard holder
The Standard Holder defines and manages all aspects of the Standard, including governance structure and technical details. They oversee the Certification programme and further development of the underlying Standards. This includes managing stakeholder consultations and incorporating feedback on the methodology and programme.
---
Certificate Issuing Body
The Certificate Issuing Body administers the MiQ Certification programme. The Certificate Issuing Body is designated by the Standard Holder, and supervises Certification Bodies. They also receive Certification applications from producers and manage their admission into the programme, evaluate audit reports submitted by Certification Bodies, make a final determination of eligibility, and ultimately issue MiQ Certificates.
MiQ has signed a memorandum of understanding with GCC to become the MiQ Certificate Issuing and Registry partner. GCC is currently the Central Issuer for the I-REC Standard, providing renewable energy certification for consumers around the globe.
---
Certification Bodies
Certification Bodies carry out the necessary ex-ante and ex-post audits according to the requirements defined in the MiQ Standard and following the processes described in the MiQ Program Guide. Certification Bodies are accredited by the MiQ Foundation before they can perform audits against the Standard.
---