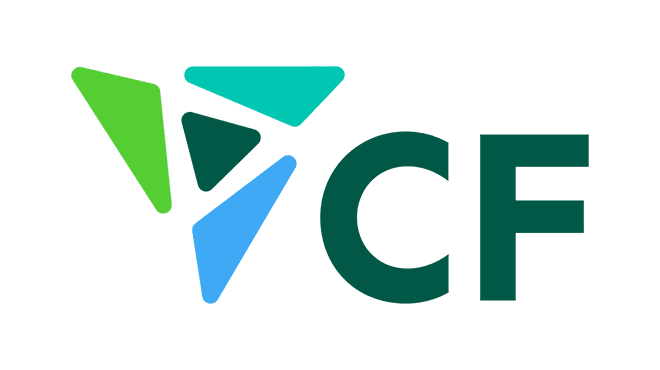 First known certified natural gas purchase for use in industrial manufacturing
Certified natural gas considered a pathway to meet Company's scope 3 emissions reduction goals
Recent white paper shows use of certified natural gas with carbon capture and sequestration processes could reduce lifecycle carbon intensity of ammonia production by up to 94%
February 14, 2023 – As part of its commitment to reduce its scope 3 emissions by 10% by 2030 and to reduce the lifecycle carbon intensity of ammonia production, CF Industries Holdings, Inc. (NYSE: CF) today announced that it has entered into an agreement with bp (NYSE: BP) for the supply of 2.2 billion cubic feet (BCF) of certified natural gas in 2023.
MiQ-certified natural gas, or certified gas, is produced by companies whose operations are independently verified by a third-party auditor. These third parties provide a factual assessment of methane emissions intensity – the ratio of methane emissions to natural gas produced. CF Industries uses natural gas as a feedstock in the production of ammonia. Methane emissions throughout the natural gas supply chain are a significant contributor to the lifecycle carbon intensity of ammonia production and one of the two largest sources of scope 3 emissions for the Company.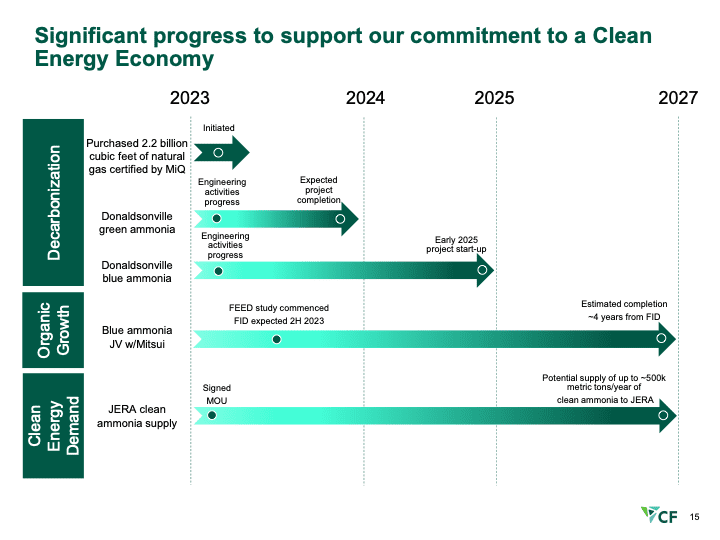 The natural gas is certified using not-for-profit MiQ's methane standard, which leverages independent third-party auditors to monitor, address, and grade the natural gas used in ammonia production. The Company will use the highest level of certified gas available, or 'A' grade, which – when compared to industry production averages (GREET, 2022) – lowers the methane emissions associated with the natural gas purchased by around 90%. This is the first known purchase of certified gas by an industrial company for use in its ammonia production processes.
"CF Industries is the first industrial giant to use MiQ-independently certified natural gas to significantly reduce scope 3 emissions from its production processes," said Georges Tijbosch, CEO, MiQ. "We've seen multiple utilities across in the U.S. purchase independently certified gas to reduce their emissions, and this key commitment by CF Industries should be a trigger for other natural gas users in hard to abate industries to prioritize the minimization of their supply chain emissions through certification."
A recent white paper published by MiQ estimates that using 'A' grade certified natural gas as a feedstock in ammonia production would lower a purchaser's natural gas supply chain-related scope 3 emissions by 90% and reduce the lifecycle carbon intensity by up to 20% using a 100yr global warming potential (GWP). The use of certified natural gas alongside carbon capture and sequestration processes at ammonia plants could eliminate up to 94% of greenhouse gas emissions associated with ammonia production, according to MIQ.
"This initial purchase of certified natural gas is an important step in CF Industries' decarbonization journey and reinforces our commitment to be at the forefront of low-carbon ammonia production," said Tony Will, president and chief executive officer, CF Industries Holdings, Inc. "The independent, transparent and third party-audited process to validate lower methane emissions intensity ensures that we are genuinely achieving scope 3 emissions reductions from purchasing certified natural gas. At the same time, we believe the resulting lower lifecycle carbon intensity of ammonia production will further enhance the appeal of decarbonized ammonia as a clean energy source for hard-to-abate industries."
The purchase agreement will allow CF industries to confirm its systems can track the certified natural gas through the ammonia production process. The Company also intends to evaluate further certified gas purchases as part of its scope 3 emissions and lifecycle ammonia production carbon intensity reduction efforts.